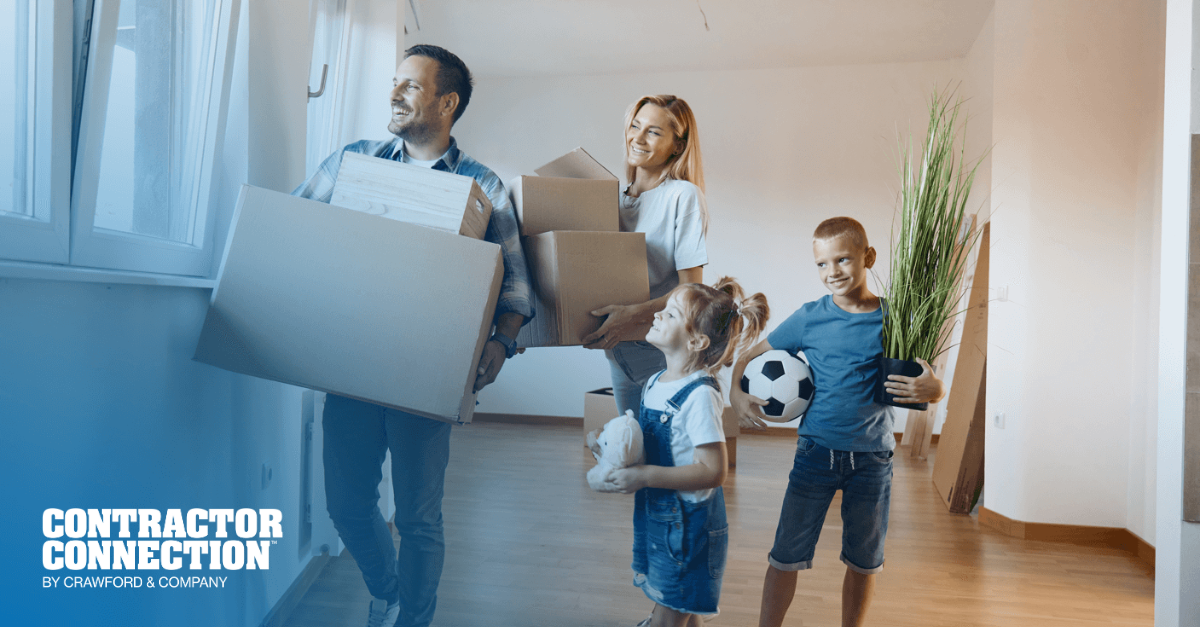 Temporary housing is a critical, yet often underappreciated, facet of the insurance and property management industries. In this blog post, we will delve into the concept of temporary housing, explore its value proposition, and highlight the unique benefits it offers to insurance carriers, property management firms, temporary housing companies, and policyholders.
Temporary Housing
Temporary housing serves as a lifeline when disaster strikes. Whether due to a natural calamity, fire, or another catastrophic event, policyholders sometimes find their primary residences uninhabitable. Temporary housing's core purpose is to provide swift and secure shelter, helping policyholders regain a sense of normalcy while mitigating the additional financial burden they may face.
A Win-Win Solution
At the heart of temporary housing is Contractor Connection's aCCommodate program, uniquely designed to seamlessly integrate into the restoration process. It's not just about a temporary place to stay; it's about delivering a comprehensive, insurance-friendly solution. Here's how it benefits each key stakeholder:
Benefits for Insurance Carriers
Enhanced Policyholder Satisfaction: By providing policyholders with access to over 4 million available hotel rooms via Digital Direct Connect, insurance carriers can swiftly alleviate their housing needs. This enhances policyholder satisfaction, leading to improved client retention and reputation. A satisfied policyholder is more likely to stay with their carrier and speak positively about their experience.
Cost-Effective Solutions: The program offers access to up to 300% more long-term housing options within 24 hours than traditional methods. This not only preserves additional living expense limits but also ensures transparent pricing through a competitive bid process. It means that insurance carriers can provide solutions that are not only fast but cost-efficient, reducing the financial burden on policyholders.
Risk Management Services: Insurance carriers benefit from risk management as Contractor Connection ensures that policyholders have secure and comfortable housing, reducing potential liability and minimizing disputes. When policyholders are taken care of swiftly and effectively, there are fewer opportunities for complications and conflicts that can escalate into disputes, saving carriers time and resources.
Benefits for Property Management Firms
Increased Business Opportunities: Property management firms can tap into a vast network of housing opportunities, especially during high-demand periods. This leads to additional bookings and revenue, including lucrative long-term bookings that can significantly boost profits. By having access to a steady stream of insurance-related bookings, property management firms can better plan their resources and revenue.
Insurance Carrier Partnerships: Participating in the program positions property management firms as preferred partners for insurance carriers. This establishes a steady stream of business and strengthens their presence in the market. The program fosters trust and enhances the reputation of property management firms, making them the go-to choice for insurance carriers. This can lead to long-term, mutually beneficial partnerships.
Analytics for Growth: The program provides valuable analytics, offering insights into areas where property management firms can improve their offerings to secure more bookings. This data-driven approach gives them a competitive edge in the market and fosters continuous improvement. With access to detailed analytics, property management firms can fine-tune their operations, streamline their services, and ultimately increase their competitiveness in the market.
Benefits for Temporary Housing Companies
Increased Demand: Temporary housing companies have a unique opportunity to access a broad network of housing opportunities from insurance carriers. This creates additional revenue streams and fosters a fruitful partnership with insurance carriers. By becoming trusted partners for insurance carriers, temporary housing companies can ensure a steady flow of business and secure a reliable income source.
Bid on Opportunities: The

aCCommodate

program allows companies to bid on hundreds of opportunities with insurance-covered losses and subsequent temporary housing needs. This means more business and growth potential. The ability to bid on opportunities provides a level playing field for temporary housing companies, enabling them to compete for business and showcase their strengths and capabilities.
Analytics for Optimization: The program offers analytics to highlight areas of success and opportunities for enhancement, allowing companies to maximize their bookings and deliver superior service. By leveraging analytics, temporary housing companies can make informed decisions, adapt to changing market conditions, and continuously optimize their services to meet the evolving needs of insurance carriers and policyholders.
Benefits for Policyholders
Swift and Secure Shelter: Policyholders gain access to a swift and secure place to live, ensuring their safety and well-being during challenging times. This offers peace of mind and reduces stress during a difficult period. Policyholders are often vulnerable and stressed when their homes are uninhabitable. Swift access to secure housing provides much-needed comfort and stability during times of crisis.
Cost-Efficiency: The program offers cost-effective solutions, including access to thousands of housing options and transparent pricing. This eases the financial burden on policyholders, making it easier for them to recover from disasters. Temporary housing options that are affordable ensure that policyholders can get back on their feet without facing overwhelming financial strain.
Preservation of Quality of Life: Policyholders can maintain their quality of life and routine, even in the face of adversity. This consistency fosters peace of mind and ensures that children can continue their education without disruption. When policyholders can maintain their daily routines and lifestyles, it minimizes the disruptions and emotional impact of their displacement.
In conclusion, temporary housing is not just a stopgap solution; it's a comprehensive strategy that ensures policyholders navigate challenging times with ease. Contractor Connection's aCCommodate program embodies a clear value proposition and benefits all parties involved. It enhances policyholder well-being, elevates the reputation of insurance carriers, opens new revenue streams for property management firms, and provides growth opportunities for temporary housing companies.

It's a win-win solution that fosters a spirit of cooperation in the insurance, property management, and temporary housing industries. The resilience of individuals and families in the face of disasters is strengthened by the swift, cost-effective, and insurance-friendly support provided by temporary housing, and it's a testament to the power of collaboration in times of need.

Categories: Uncategorized