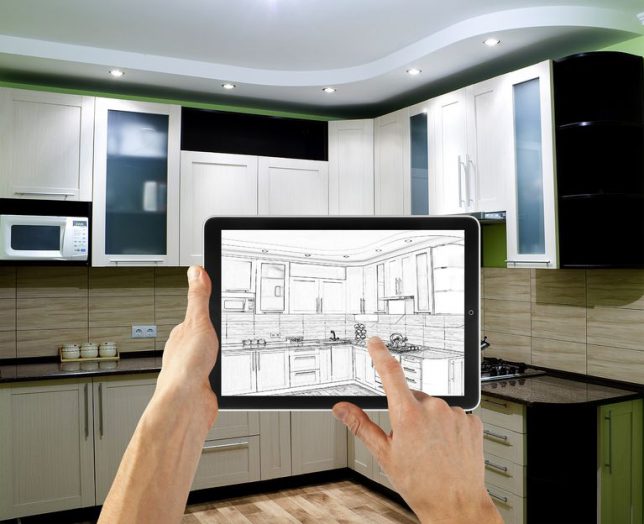 With real estate market conditions still sluggish in many areas of the country, homeowners who otherwise might sell their homes are choosing to invest in home remodeling instead. Home renovations offer the immediate benefit of having a more comfortable or functional home for yourself and your family, as well as the longer-term benefit of adding resale value.
If you're just beginning to consider home remodeling, here are a few ideas for updating your home, plus estimates on what costs may be. Note, however, that prices and returns on investment can vary widely from city to city and neighborhood to neighborhood, so you'll want to do your own research on your local area if recouping costs is important to you.
Top 4 Home Remodeling Ideas
Kitchen Remodeling
It's no secret that kitchen renovations can have a major impact on the appearance, function and value of a home. As the center of so much activity, homeowners often opt to open up their kitchens by knocking down or relocating walls, or creating a pass-through. When changing a wall, it's best to consult or hire a home renovation contractor who can assess whether the wall is load-bearing. Contractors also have access to skilled tradespeople who can handle everything that extensive kitchen renovations may involve, such as plumbing, electrical, tile, floors and drywall. The cost of reconfiguring a kitchen varies widely, from $1,000 or so to make a doorway wider to tens of thousands of dollars for extensive remodeling.
If you're happy with your kitchen's layout, you may choose to simply update what's already there. These kitchen renovations can range from installing a new faucet and changing cabinet knobs to replacing appliances or cabinets. Again, the budget for this varies; you could take on a small project yourself or spend $50,000 on replacing nearly everything. On the less-expensive, do-it-yourself end are updates such as:
A new coat of paint
Updated or additional lighting
A new faucet
New cabinet knobs
New cabinet doors
One note of caution: Think twice before creating a kitchen that's not appropriate for the size and style of your house. A kitchen with the highest-end finishes and equipment may feel out of place for your home and/or neighborhood, and you may not get much of a return on the investment.
Home remodeling contractors in your area will be familiar with what's right for your area. Get tips on an affordable kitchen remodel.
Bathroom Remodeling
Updating a bathroom can be relatively affordable while packing a big punch. Changes that don't involve plumbing, electrical or other costly changes but that can still make you feel like you have a new room include:
Regrouting tile
Changing the vanity
Upgrading fixtures such as lighting and towel bars
Replacing shower curtains and rods
At the next level, you will most likely want to hire a home renovation contractor. Relocating plumbing fixtures and lighting will require the services of professionals, as will moving walls or adding windows. While tiling can be done by many homeowners, a contractor is your best bet if your floor or walls are sizable.
Bathroom remodeling costs can range from a few dollars for decorative changes to $20,000 and up for extensive renovations. If you're thinking about a bathroom addition, which is one change that should do well when it comes to recouping costs, a home remodeling contractor is the only way to go. Permits and licensing requirements are a factor, so call in a professional for this.
Ready to start a bathroom remodel? Get the tips you need to start planning.
Replacing Windows
The energy efficiency of homes is ranking higher on buyers' lists. Even if you're not planning to sell, you can lower your energy consumption by replacing old single-pane windows. It's estimated by Energy Star that the right windows can save you up to $500 every year. In addition, many local utilities, municipalities and states offer rebates or other incentives. Some estimates show that the installation of energy-efficient windows will result in recouping 60 to 90 percent of your costs. A quick online search for energy-efficient window rebates will provide information on savings in your area.
Find out all you need to know about replacing windows.
Adding a Deck
A well-built deck can not only increase the value of your home; it can also increase its appeal to prospective buyers. Great outdoor living spaces are very desirable, and a deck can change the entire appearance and function of your yard. Estimates are that homeowners can recoup 65 to even 90 percent of their investment in a deck. As with all types of home improvements, costs to build a deck vary greatly. Apart from its size, additional features raise the price. More than one set of steps leading to the deck, built-in seating and, of course, your choice of materials determines the final price.
A deck project can be DIY, but a professional home remodeling contractor will already have not only the experience to do the job well, but also the specific tools to do it right. Local building codes may also be a factor when adding or remodeling a deck, so make sure your project is up to required standards.
If you already have a deck but it's seen better days, careful pressure washing and re-staining can help restore its good looks.
Make your outdoor living space enjoyable with these ideas.
Take the worry out of home remodeling with Contractor Connection.
With an industry-best 3-year workmanship warranty and home remodeling contractors who are trusted by the insurance companies we work with, using our contractor matching service helps ensure you'll be satisfied. Call on our network of experts for your next home renovation project. Just enter your ZIP code at the top of the page to get started!

Categories: Home Remodeling Renovation