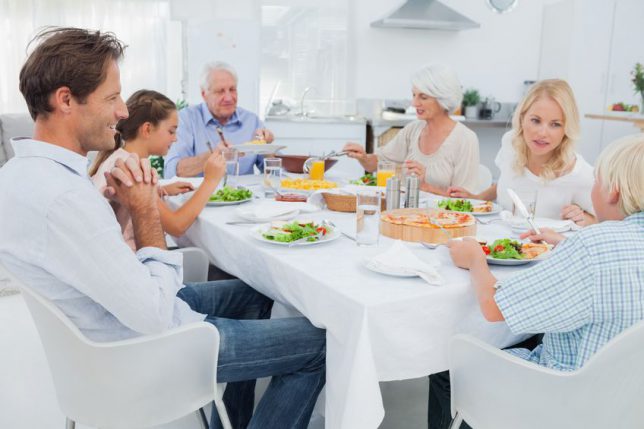 From adult children moving back in to sharing a home with grandparents, households with multiple generations is on the rise. The high cost of housing, a sluggish job market and older adults' desire to stay out of senior communities or assisted living facilities has increased the focus on how people of all ages and varying abilities can live well together. Many have even invested in modifications to their homes with the help of aging in place contractors.
There are challenges that come along with several generations sharing a home, but there are benefits as well. Older adults are less isolated and have help at hand when it's needed. Children can get extra attention by having more adults willing to spend time with them. And even young adults can gain an increased sense of security in addition to lowering their living expenses.
To help make living together easier for everyone, keep these tips in mind:
Communication is key.
Clear communication is essential and it's best if it begin before grandparents or adult children move in. Discussions about responsibilities, boundaries and expectations can prevent the tension that arises when people feel misunderstood or disrespected. Work together to develop a plan for such things as the division of chores and expenses, how and when certain rooms or items are to be shared, and how and by whom younger members of the household are to be looked after or disciplined. As time goes on, talking openly about conflicts as they arise instead of quietly seething will go a very long way toward keeping the overall peace.
Respect privacy and preferences.
Everyone should have their own spaces in the house that they can call their own. It may be a bedroom or a corner of the den, but it's important for grandchildren, parents and grandparents to have a spot to retreat to. If space doesn't allow, schedule private time for each person when you can.
It's also important to respect each person's preferences and remember that people have different ways of doing things. You can help keep the peace by letting family members do small things their way, such as laundry or loading the dishwasher. Save your energy for disagreements over issues that truly matter.
Establish routines.
Most people, especially children, need some structure. This is particularly true when another generation joins an established household. Setting routines (such as bedtimes and mealtimes) provides some consistency in a situation where varying personalities, schedules and needs can cause circumstances to change quickly.
Be realistic.
While communicating expectations can help things go more smoothly, so can tempering your expectations of others. Be realistic about how far people are willing to go in changing how they live, how much time young adults may really spend at home and how quickly older adults can adapt to a new place or new ways of living.
Focus on priorities.
What's really most important in your multigenerational household? Chances are it's your children. Adults of any age should recognize that the well-being of little ones is the top priority — keeping this as the focus can make life better, and easier, for everyone.
Update your home.
Few of us have homes that will readily accommodate the needs of people of all ages and abilities, so take an objective look at your house from the point of view of each of its occupants. Will older adults find it challenging to navigate? Do your kitchen and bathrooms have obstacles that may keep any family members from being able to use them without assistance? Will young children be safe there? There are many changes (many of them relatively minor and inexpensive) that can be made to make your home more accessible to everyone. Aging-in-place design and universal design are two approaches to accessibility that are becoming increasingly popular, and you can learn much more about them with online research.

Make your home work for everyone — Contractor Connection can help.

If members of your multigenerational household need special accommodations, our network has aging-in-place and universal design contractors who are ready to help. We've thoroughly vetted each contractor to ensure they're qualified to do your project right, and their workmanship is backed by a five-year warranty. To get your free estimate, simply enter your ZIP code at the top of the page and a top-quality contractor will be in touch within 24 hours.

Categories: Aging In Place Contractors