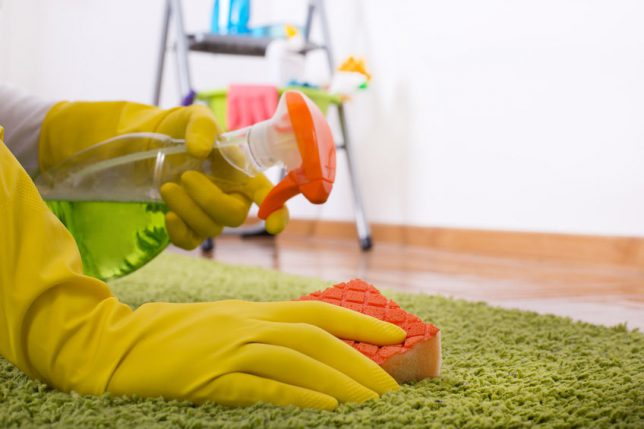 Remember the day your carpet was installed? It was so soft, fluffy, fresh-smelling, and oh-so pristine. Now fast-forward, and there's that pink spot where red wine was spilled at book club, those dented circles where the sofa used to be, and the lingering aroma of dog. It may seem like a tough task, but you can return a carpet or rug to its former glory with the following carpet and rug cleaning tips.
The best thing to do for your carpet is to schedule regular deep cleanings and not wait until embarrassment takes over. Consider carpet and rug cleaning part of your home maintenance routine. This will reduce the amount of time and work it takes to revive them, and potentially lower your cleaning bill. However, even if your carpet or rug is stained, crushed, and stinky, it can be refreshed and renewed with a professional cleaning.
A clean carpet will make your home look and smell better, and the same goes for area rugs. Over time, dirt, spills, and allergens like dust and dander build up and smells get trapped in the fibers. Carpets and rugs can even harbor germs and viruses. According to the National Center for Healthy Housing, maintaining clean carpets contributes to better indoor air quality by reducing airborne particulates, allergens, bacteria, and more.
There are many different types of carpet, such as Berber and Saxony, which are made of many different types of materials like wool, polyester and nylon. The care required varies as well. A reputable carpet cleaning company will know which cleaning methods and products to use on your particular carpet. Some stains and odors are harder to remove than others and may require tougher cleaning agents.
When hiring a professional, check reviews and references; ask if cleaning products are pet-safe and/or eco-friendly; and get a sense for the cleaning process that will be used and how much time it will take for your carpet to dry or be back in use.
Area rugs are often overlooked when it's time to clean floor coverings — a study by the Institute of Inspection Cleaning and Restoration Certification found that while 65 percent of U.S. homeowners have rugs in their homes, less than half clean them on a regular basis. You can clean area rugs yourself, but there are pros available that will clean them for you and often provide pick-up and delivery service.
In between cleanings, deal with stains and spills quickly. Gently blot the spot, then using cool or lukewarm water, mix up a solution with dish detergent. Let the mixture sit on the stain for a few minutes, then rinse. Repeat as needed. Try the following for these specific stains:
Lipstick: Try dabbing with a cloth soaked in isopropyl rubbing alcohol. First test on the carpet in an inconspicuous spot.
Blood: Blot with cold water. Unseasoned meat tenderizer can help break down the proteins in blood.
Pet urine: Mix one part white vinegar to three parts warm water and treat the areas where there are odors.
Regular vacuuming of carpets and beating of rugs will help keep them cleaner longer. Another tactic is to use doormats at every entry. Also consider removing your shoes when you enter your home, and wiping off your pets' paws before they are allowed to come in from outside.

The lifespan of a carpet can run from 10 to 20 years. If your carpet really is past its prime, consider purchasing a new one, or try a different type of floor covering.

Find a professional carpet cleaner near you.

Our nationwide network includes expert carpet and upholstery cleaning professionals, and every Contractor Connection contractor has been vetted and prequalified to ensure that the investment you've made in your home is protected.

We've made finding an expert easy — simply enter your ZIP code above and you'll be contacted by a professional contractor in your local area.

Categories: Carpet and Rug Cleaning