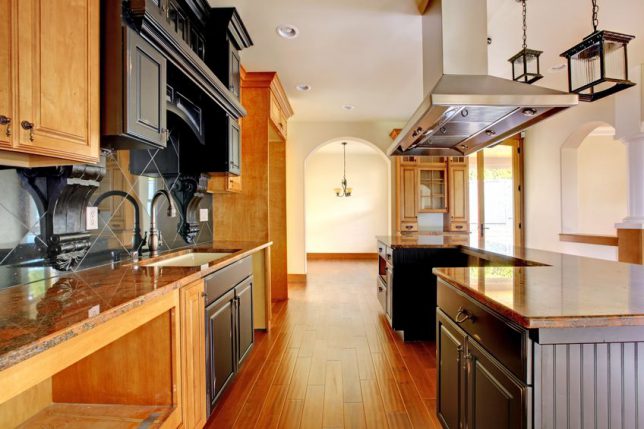 To determine how your budget will be allocated, start with a clear idea of what matters most to you. If you have a large family, for instance, storage space may be at the top of your list. If you look forward to spending hours in the kitchen cooking up four-course gourmet meals, a professional six-burner range may be your starting point. Prioritizing what's most important before you start your kitchen remodeling can help you (and your kitchen remodeling contractor) arrive at a plan that works for your wallet and for the way you really live.
Here is some guidance for deciding where you may want to spend more and where you'd rather keep costs low.
Top Kitchen Remodel Costs that Make or Break Your Budget
Kitchen Cabinets Cost
If you've already started researching cabinets, you know that the choices and price range is greater than ever before, and that your cabinets may be one your largest single remodeling expenses. On one end you'll find RTA (ready-to-assemble) or stock cabinetry; on the other is cabinetry customized to every inch of your kitchen. Even within both of those categories, however, are features that can greatly affect the total cost. Rollout trays, lazy susans and extra-tall cabinets cost more, but if you don't really need the extra space or convenience that all the extras provide, put your money elsewhere.
Places to splurge on cabinets are those that make your new kitchen more functional. One example is large drawers in lower cabinets, a trend that's growing for good reason. Opening a drawer to access everyday dishes and cooking utensils is much more ergonomic than stooping to dig deep into cabinets or reaching to take a stack of heavy dinner plates from an overhead cabinet.
To save on your cabinet budget, look for mid-range choices that have upscale design features, such as full overlay doors. Affordable cabinetry is more well-built than ever and can offer a custom look without the high costs. Also take into consideration the cost of installation and delivery. When working with your kitchen renovation contractor, make sure to discuss those costs as well as the price of the cabinet boxes and doors themselves. Add in the sales tax and before you know it, you've gone well over budget.
And, speaking of installation, that's a job that's best left to professionals. Not only will an experienced kitchen remodeling contractor know how to properly install your cabinets — they'll also be able to see potential issues before they become big, expensive problems.
Kitchen Tile Cost
Like cabinetry, hard-surface choices abound. Natural stone is beautiful, but porcelain tile is a great alternative for floors. It wears well, with resistance to cracks and chips, and higher-end porcelain can closely resemble natural stone. You can splurge a bit on your backsplash by using a few more expensive pieces, such as glass mosaics, interspersed among more affordable ceramic tile. For floors, larger tiles can help you save on cuts while it's being installed and save on grouting labor.
Kitchen Hardware and Fixtures Costs
If the details are what really makes a kitchen to you, you can splurge on custom-designed cabinet knobs and pulls to give your kitchen a one-of-a-kind look. For your plumbing fixtures, you can save on the lower-priced options offered by the manufacturers known for high design — most all of them have simple but attractive choices for less. If you'd rather splurge here, the newest fixtures offer not only a great look, but also give you conveniences such as touchless operation and built-in filters.
Kitchen Countertops Cost
You can get beauty on a modest budget when shopping for countertop materials. At the lower end are laminates, which have come a long way over the last few years. By adding details such as bullnose edges or mitered corners, laminate counters can look more expensive. In the mid-range, butcher block, tile and solid surfacing can give you nearly any look you want without breaking the bank. If, however, you want your countertops to be your new kitchen's show-stopper, stone can do the job. Marble, soapstone, granite and other natural materials can be very durable and, with proper care, continue to be the star in your kitchen for many years.
Kitchen Appliance Costs
Splurging on appliances may yield nothing more than good looks — stainless steel exteriors may be wildly popular, but stainless steel doesn't have any function, and it can add hundreds to the cost of each kitchen appliance. Instead, you may want to focus on the features available to choose from. This is where prioritizing what matters to you is especially helpful. If speed of cooking is important to you, for example, an induction range may be worth the money (and cost of compatible cookware). If you entertain frequently, a double oven may make sense. Since kitchen appliances get so much use, take the time to research and plan for how you'll use your appliance budget.
Get more tips for an affordable kitchen remodel.
Make your dream kitchen come true with Contractor Connection.
An experienced kitchen contractor can help you avoid the pitfalls of kitchen remodeling, and Contractor Connection can help you avoid unethical contractors. Our matching service (free to you) gives you access to a kitchen renovation contractor who's already been verified to have the proper licensing and insurance, and a history of financial stability. Our five-year warranty on our contractors' workmanship means that you'll be satisfied with your new kitchen. Get started by entering your ZIP code at the top of the page and telling us about your kitchen project.

Categories: Kitchen Remodeling