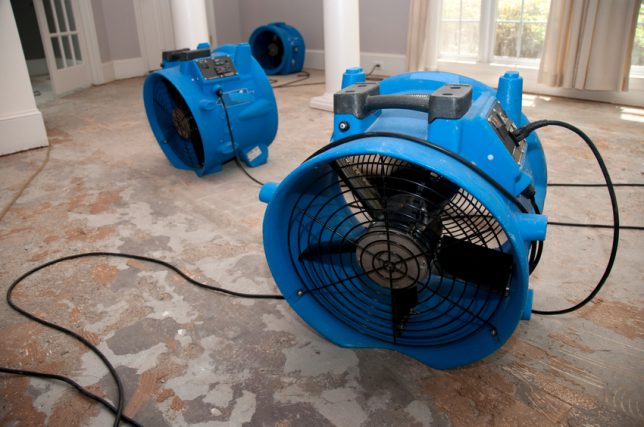 The word "mold" can strike fear in the heart of a homeowner. An undetected leak, water damage, lack of air circulation, high humidity – all of these things can lead to a problem with mold. Mold left untreated not only causes damage to your home; it can be a serious health hazard, so it's important to deal with mold as soon as you're aware of its presence. The good news? Professional mold remediation contractors can help, and there are steps you can take if you find mold growing on your ceiling, walls, floors or any other surface:
Discover the cause of the mold
Mold is naturally occurring in the environment, but is doesn't belong in your home. Get a mold assessment to uncover the source of the moisture that is causing the mold. The area where mold is present needs to be sealed off until the moisture problem is solved. By doing this, you won't simply continue to treat the surface problem — you will eliminate the continued growth of mold. Common underlying causes of mold include roof and pipe leaks, excess moisture or poor ventilation in bathrooms and kitchens, indoor humidity above 60 percent, and groundwater intrusion.
Act quickly to prevent mold in the case of water damage
When confronted with water damage from a storm or flood, dry water-damaged areas and items within 24-48 hours to prevent mold growth. Mold will destroy whatever it's growing on, so take care to identify and remove any items that show signs of mold.
Use caution when attempting to treat mold yourself
Mold that has been disturbed is particularly toxic and the airborne mold spores can spread when using a regular vacuum cleaner or wet-vac. There is doubt among experts about the efficacy of bleach for treating mold. To ensure that the mold is killed and properly disposed of by the use of proper techniques, cleaning agents, tools and equipment, it's best to consult a professional mold remediation contractor.
Be aware of the health risks of mold
According to the Centers for Disease Control and Prevention, mold presents a significant health risk, particularly after a hurricane or flood event. Symptoms to watch for are headache, cough, congestion, nausea, and lung infections. Persons with weakened immune systems, asthma and allergies are particularly affected by mold.
Aim to eliminate factors that contribute to mold
Controlling moisture and humidity in your home will help prevent the growth of mold. This will save money, protect your health, and avoid damage to your home and furnishings. Taking steps such as installing fans in the bathroom and kitchen, keeping air conditioned, and cleaning ductwork will help remove the conditions that can lead to mold.
Check your insurance policy
Review your insurance to make sure you're covered for mold remediation. Also document your possessions, take photos and video of the areas impacted by mold, and keep a list of items damaged by the growth of mold. Keep estimates and receipts for any mold remediation. This information will help support an insurance claim.
Hire a contractor experienced in mold remediation
Not every cleaning company is equipped to deal with mold. Hire a professional who follows guidelines from the Environmental Protection Agency (EPA) for mold remediation in buildings and learn more on the EPA's website.

To make sure you hire an experienced mold remediation contractor, Contractor Connection offers a nationwide network of prequalified contractors. Our network contractors have been vetted to ensure they have the qualifications, licensing and insurance that's needed to do the job right. It's easy to get a free, no-obligation estimate: just enter your ZIP code above and you'll hear back from a professional contractor in your area soon.

Categories: General Contractors, Storm Damage Repair, Water Damage Repair