A qualified contractor can help protect your investment in your home.
Most homeowners think about renovations sooner or later. Unless you have a good handle on home improvement, you'll probably need to hire someone to do the work for you. Knowing where to start, however, can be a challenge. How do you find a home improvement contractor and how do you know if he or she is qualified?
A professional contractor is always the right choice, and for many reasons. He's licensed and insured, and should have a list of references that you can check.
Here are six more reasons to go with a Professional Home Improvement Contractor:
#1: Experience with projects like yours
It's true that there's no other home quite like yours, but there are commonalitiess among most renovation projects. For bathrooms, kitchens, home additions, and anything else that you might want, a professional contractor has years of experience working with the home systems and materials to do the job right.
#2: Professional connections with vendors
Every home project comes with a materials and supplies list, and that's where a lot of your budget goes. If you work with a professional general contractor, he will have connections that can save you money. A contractor may have vendor accounts with discounted pricing or may get discounts because he buys from certain vendors fairly often. Either way, his savings is passed on to you, which means you'll get the most from your budget.
#3: Skills in different areas of home improvements
Along with experience comes expertise, and that's something that can only be learned with time in the industry. A professional contractor has framed a wall, installed a subfloor, hung doors and windows and mounted kitchen cabinets in many other homes. He knows the pitfalls to watch out for, which tools and materials work best, and the right way to perform each part of your project.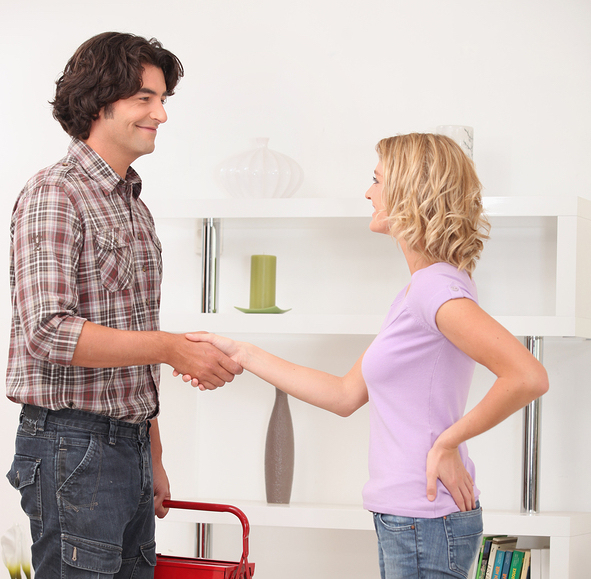 A pro is concerned about your home and takes pride in his work.

#4: Safety that protects you and your home

Safety is a top concern among all reputable contractors. It means that a job is done right, and it also helps prevent injuries and property damage. A contractor knows the local and industry codes, and will obtain the right permits for the job. That means you can count on the work to be code compliant. He understands OSHA regulations, so he and his crew will maintain a safe work environment that doesn't damage your home.

#5: Respect for your property

A big complaint with homeowners is when workers make a mess and leave it once the work is done. Some track in dirt, leave lunch wrappers lying around, drop nails, leave sawdust and any number of other annoyances. Some of those annoyances can also be hazards. A professional contractor respects your home, and he never leaves a mess for you to clean up.

#6: Overall money savings

Aside from saving money on materials and supplies, there's another way that a general contractor saves you money. A job well done is money well spent. But a job that's half-done or one where the work is performed poorly can cost you double in the long run, once you factor in replacements and repairs. A reputable contractor gets it right the first time. And if there's a problem with his work, you're not stuck footing the bill to correct it.

You've spent time and energy, not to mention budgeting, to bring your home improvement dreams to life. Put it in the hands of a pro, and you won't be disappointed.

Are you in the market for a home improvement contractor to handle your project? Contractor Connection can help. To find a pre-qualified contractor in your area, simply enter your ZIP code to get started. We'll connect you with a contractor who's been verified to have the proper licensing and insurance, and whose workmanship is guaranteed for a full five years.

Categories: General Contractors