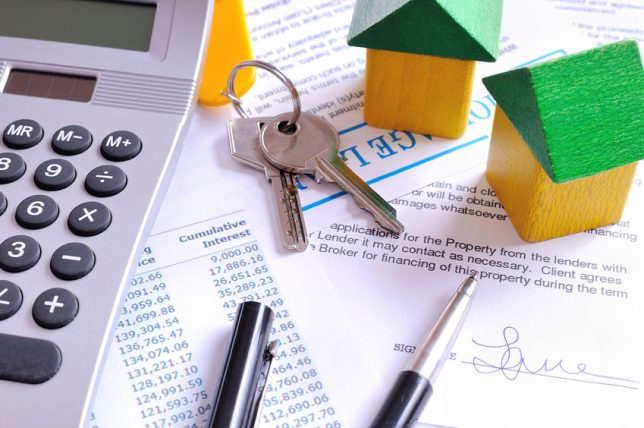 It's a rare property that doesn't need any improvements made upon purchase or before it can be sold, but some require extensive work, which can make it difficult to get a traditional bank loan. Did you know that there's a special type of home loan designed especially for fixer-uppers? Called a Section 203(k) loan, it will cover both the mortgage and the costs of home renovation. It can also be used by homeowners to refinance and fix up their existing homes. Here are the facts:
What is a 203(k) loan?
The Section 203(k) loan program by the U.S. Department of Housing and Urban Development (HUD) allows you to finance the purchase of a house — or refinance your current mortgage — and include the cost of its repairs through a single loan. It's a good option if you want to buy a home that needs repair or finance needed repairs to your current home. The Section 203(k) loan program is HUD's primary program for the rehabilitation and repair of single-family properties. For more information, visit www.hud.gov.
Who qualifies for a 203(k) loan?
The Section 203(k) loan program provides a path to home ownership for low- to moderate-income individuals by financing mortgage and renovation costs into one loan, with a down payment as little as 3.5 percent. The property must be used as the primary residence of the homeowner. Investment and co-op properties do not qualify.
What kinds of property are eligible for a 203(k) loan?
Many types of residential properties are eligible for a Section 203(k) loan, including:
Detached homes
Townhouses
Condominiums
Converted properties – from one unit to multi-unit or from multi-unit to single-family
Mixed-use residential spaces that include commercial space
An existing house that is moved to the mortgaged property
Demolished properties if part of the original foundation remains
Are there restrictions on the repairs that can be made?
Improvements for commercial use are not eligible and funds cannot be used for "luxury" items such as swimming pools or tennis courts. A minimum of $5,000 must be used for repairs or improvements in the first six months after closing on the loan. Eliminating building code violations, modernizing, or making health and safety-related upgrades to the home or its garage must come first. After that, additional improvements can be made, ranging from room additions to making the home accessible for the disabled to cosmetic changes such as new flooring.
What are the benefits of a 203(k) loan?
By rehabilitating older or neglected homes, neighborhoods are improved and homeownership opportunities are expanded for individuals and families.
Homeowners gain an avenue for repairing, improving and upgrading their homes for their own well-being and enjoyment or as a way to prepare them homes to sell.
Properties can be sold "as-is" with repairs made following the closing of the loan. This allows the seller to avoid having to undertake renovations.
If the home isn't habitable during construction, up to six months of mortgage payments can be financed during the renovation period.
Where can I obtain a 203(k) loan?
Section 203(k) loans are provided through HUD-approved mortgage lenders nationwide and are insured by the Federal Housing Authority (FHA), which is part of HUD. "Section 203(k)" refers to the law, part of the National Housing Act, which allows FHA to make this mortgage insurance available. The total amount of the mortgage is based on the projected value of the home after the renovation is completed, taking into account the cost of the work. Part of the loan is used to pay for the purchase of the home or to pay off any existing debt in the case of a refinance. The remainder is placed in an interest-bearing escrow account and released incrementally as predetermined work is completed.
You can take out a Section 203(k) loan as a 15- or 30- year fixed-rate mortgage or as an Adjustable Rate Mortgage (ARM). There are two types of 203(k) loans:
The Standard 203(k) is for more involved projects, such as those requiring structural changes, architectural drawings or engineering inspections.
The Streamlined 203(k) is for less complicated projects with renovation costs totaling less than $35,000.
Who does the renovation work?
Your lender may assign a 203(k) consultant to perform a home inspection, identify needed repairs, and prepare cost estimates. A homeowner can act as general contractor and do the work, if licensed, qualified and approved by the lender. The savings can be used for cost overruns or more improvements.

While the homeowner might be willing and able to do the work, Section 203(k) requirements can be complex, and unlike other home improvement loans or lines of credit, costs for repairs to a 203(k) property must be determined by a final bid prior to the closing of the loan.

How can I find a qualified general contractor?

Find a professional general contractor who can help ensure that the requirements of a 203(k) loan-financed project are met with Contractor Connection's easy matching service. We have a nationwide network of contractors whose credentials and experience have been verified and whose workmanship is warrantied for a full five years. Enter your ZIP code above to get a free, no-obligation estimate from a qualified contractor in your area.

Categories: 203(k) Contractors, General Contractors